2018
2017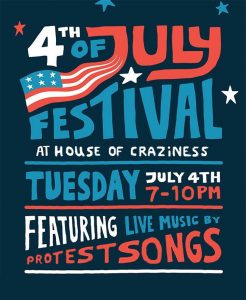 The second official 4th Of July Festival - The Netherlands will be held in House Of Craziness in Rotterdam. Theme of this years celebration is March For Our Lives!
Program
Menu € 12,50*
Picanha
Kip
Diverse Groenten
Salade
Pasta Rucola
1 free drink (cola, fanta, seven up)
Popcorn
Reserveren verplicht via 06 43226917 or info@huisderzotheid.nl voor 3 juli 24:00
* leden van Spoku Culver krijgen € 2,50 korting
Blind Vertrouwen € 5
The Dutch-speaking trio Blind Vertrouwen will play in House Of Craziness on Wednesday 4 July. Two former members of the Rotterdam band Noodweer and an Irish bodhran player together form this new acoustic trio.
Two years ago, guitarist / composer Theo van Duijl and vocalist / lyricist Jos Bloemkolk reunited. This time driven by the Irish bodhran player Barry Plunkett. The bodhran – pronounced 'barán' – is an Irish frame drum that is played by hand in Blind Vertrouwen.
Meanwhile, they have built up an extensive repertoire of their own songs. Musically very diverse, think of blues, reggae, pop and Celtic ballads. The Irish contribution is clearly heard. Three classic Irish songs have been brought to the Netherlands to start a new life here as well-felt Dutch songs. They describe their repertoire as 'meant for people with a listening ear and a beating heart'.
The variety of texts is great. The Dutch poet Lucebert once spoke of 'the space of full life'. Blind Trust joins in. A selection of their subjects, which can be funny and deadly serious and sometimes both: the pleasure of cycling through the Green Heart, a day in the life of the hard-boiled detective Philip Marlowe, the badness of man and the singer in particular , the miracle that you live (in the light of all imaginable diseases, murder in the Kralingse bos, alcoholism and regret over it, the longing to be gypsy, the unspoken love, a blues about old age, memories of Crooswijk, a song of praise on the Wadden.